Ingersoll Rand EMS
Surface and Air Sanitation TECHNOLOGY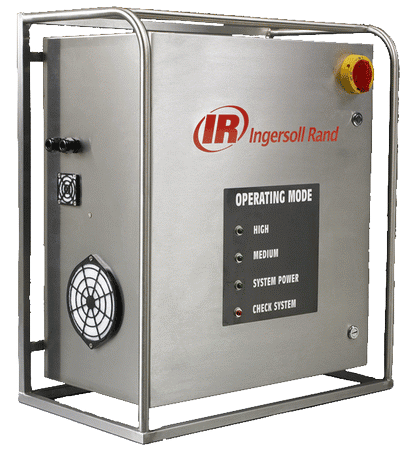 Stamoules Produce Company uses Ingersoll Rand's EMS (Environment Management System) technology in an effort to clean and sanitize the air in the cooler and any surface of their produce in lieu of using chemicals.
With the use of EMS in each cold storage room, there is up to 99.9% removal of molds, bacteria, and viruses by significantly reducing airborne and surface contaminates. This promotes a fresher, cleaner environment free of undesirable odors, which helps reduce health risks for employees, customers and visitors.
With Ingersoll Rand's EMS, Stamoules' customers can relax knowing that there is a significant reduction in the risk of E. coli, Salmonella, Listeria and Pseudomonas after just a few hours of treatment. The EMS technology enhances sanitation by generating anti-microbial compounds in gas form, because of this the anti-microbial compounds can reach every surface in the area and also eliminate airborne particles that act as vectors for bacterial contamination.
The EMS cleaning process is as follows:
The system temporarily transforms a percentage of the oxygen molecules in the air converting them into gas phase sanitizers; destroying molds, bacteria, and viruses that circulate through the unit's reactor.
The sanitized air is diffused from the unit and into the room carrying a couple of longer lasting sanitizing compounds into the room, which continue to clean the air and effectively clean all surfaces within the enclosed environment.